Outsourced Bookkeeping Services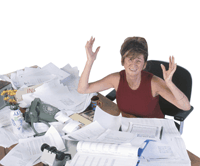 We specialize in outsourced bookkeeping solutions. This service was developed in response to the number one problem of our clients, spending too much time on paperwork and not enough on their business.
Our firm can take over some or all of your bookkeeping functions. You, the business owner, can now be free to run the business instead of keeping track of it.
These are a few of the bookkeeping functions we can assist you with:
Accounts Payable
Accounts Receivable
Payroll
Bank Reconciliation
Check Printing
Form Preparation (1099 & W-2)
Financial Statements/Financial Reporting
Sales Tax Preparation
You take care of business, we'll take care of the books.